A new simple, safe and relatively painless treatment available from Cosmetic Nurse Injectors.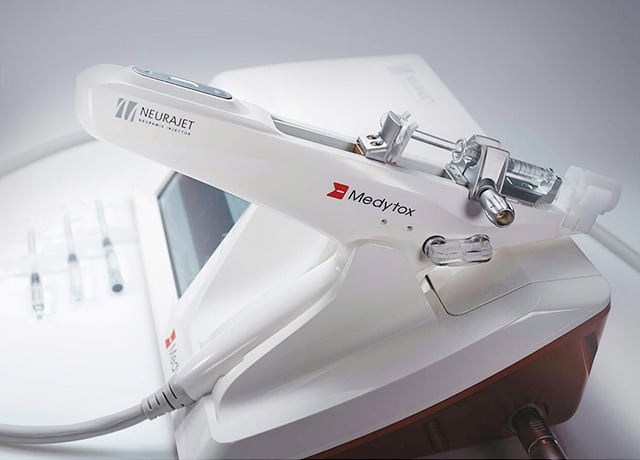 Mesotherapy for Skin Rejuvenation
Would you like to reverse the ageing changes in your skin and the damage
suffered due to UV light exposure?
For example: wrinkling, sagging, loss of elasticity and dryness.
Well now there is a simple, safe and relatively painless treatment available from Cosmetic Nurse Injectors.
Neuramis Meso is a non-cross-linked Hyaluronic Acid (HA) that is administered by microdroplets into the skin that can help to reverse the visible and histological signs of ageing. HA is a natural constituent of all connective tissue including the skin.
It provides the right physiological conditions for hydration of the extracellular space, due to its extremely potent hydrophilic nature and promotes proliferation, migration and organisation of dermal cells.
Studies have demonstrated improvement in the skin hydration, firmess and elasticity.
What is involved in a Mesotherapy Neurajet Treatment?
Pre Treatment
A full medical history will be taken prior to your procedure and you will have an opportunity to discuss the treatment in full with your Cosmetic Nurse. You will need to complete a consent form before treatment.
Treatment
The microdroplets are administered into the skin via tiny needles attached to the Neurajet mesotherapy gun. The Neurajet gun can be programmed to deliver tiny amounts of HA through multiple small needles into the skin at exact depths and dosages.
The gun gently grasps the skin with a mild vacuum and then penetrates the skin with the needles to no more then 0.8mm depth delivering the HA. The injection sensation is mild and no anaesthesia is required. There is minimal bleeding with a rapid recovery over minutes to hours. Treatment areas include the face, neck, décolletage and hands.
Aim
Studies suggest one treatment a month for three months can produce lasting effects for at least a further three months.
Therefore, we suggest a monthly treatment for three months initially, followed by a maintenance treatment every three to four months. Improvements in complexion radiance, hydration, dermal plumping and elasticity may be achieved with this regime.
Cost
Cost is dependent on quantity of product used, which varies for different areas. Total cost will be advised and agreed on the consent form prior to treatment being carried out.
Remember this is an investment in your future and you will need to continue having treatment in the coming years to enhance and maintain the effect. It is best to consider an annual budget and discuss this with your Cosmetic Nurse Injector. Having said this if you decide to stop at any stage there is no compulsion and you will still be able to restart at a later date if you wish.
Caution
Do not have treatment if you are pregnant or breast-feeding or seek medical advice if you have a neurological condition that presents as a weakness.
Mesotherapy Cocktails
Mesotherapy can administer a combination of ingredients to the skin as a cocktail. For example, at Cosmetic Nurse Injectors we combine Botulinum A Toxin with HA as a rejuvenation cocktail for the skin of the face.
Botulinum A Toxin relaxes the small muscles of the face, under the skin, smoothing fine lines and reducing sweating in the skin to produce a brighter, shiny appearance.
In combination with the improvement in skin quality from HA the final results are enhanced.
Reference
Arch Dermatol Res. 2013; 305(8): 673–682.
Clinical and biometrological efficacy of a hyaluronic acid-based mesotherapy product: a randomised controlled studyMartine Baspeyras, Céline Rouvrais,corresponding author Laetitia Liégard, Alexandre Delalleau, Sandrine Letellier, Irène Bacle, Laetitia Courrech, Pascale Murat, Valérie Mengeaud, and Anne-Marie Schmitt